We're not just contractors, we're collaborators.
A steadfast extension of your team down to tackle the most complex of technical challenges with transparency, flexibility and rock solid engineering.
How we
do it
We build dynamic custom software applications using today's most advanced technology. But, full transparency, so do a lot of development firms. So, what's the difference?

We believe in being easy to work with — from seamless integration with your team to rock solid processes to high-caliber talent that gets it right the first time. We work hard to be responsive, engaged and proactive partners who exceed your expectations.
Our team of
professionals:
meet our entire team
Andrii Demko
VP of Operations
Olga Michai
Head of Customer success department
Stas Nikitin
Practice Lead: Producer/QA
Our integrated approach to software development.
Agile thinking: Through use of the Scrum framework, we're able to avoid risks, communicate with transparency and get your product to market more quickly.
Elastic delivery: To optimize costs, we assign you a lean, mean, self-scaling dev team that functions as-needed, when needed.
Intensive collaboration: Daily check-ins ensure transparency and simplify the process.
Local presence: Locations all over the globe mean someone is always available, but if you're looking for someone in your time zone, our homebase is Philadelphia, PA.
Full stack software engineering, which includes the following practices:
Our Process: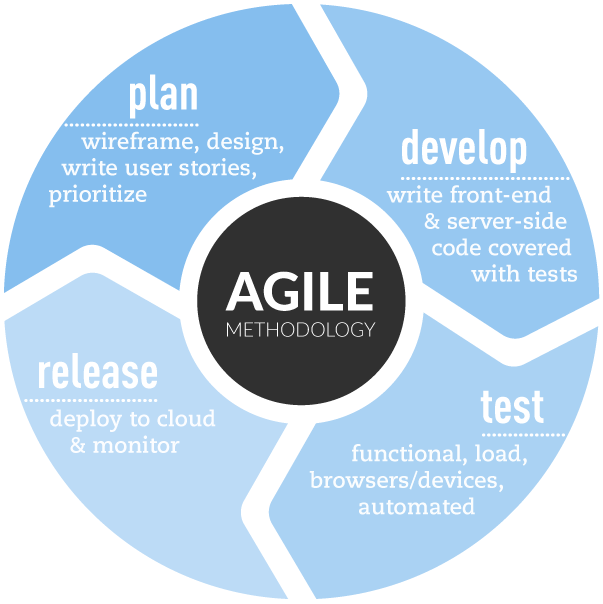 This is
what people think
The S&F team has taken the time to develop a deep understanding of our program and how it works. They were very quick to pick up our Meteor.js code base and contribute to it productively. They are helping us develop a better workflow and to shape our long term vision for this project. The team has a fast response time and good communication skills.
MJ Klenk, RestoreCore
PRODUCT MANAGER AT SECURECORE
S&F is a solid business partner. Nick and his team are willing to do whatever it takes to make a project successful and to keep the customer satisfied. They are professional and thorough.
Chris Allison, Turnberry Solutions
MANAGING DIRECTOR
The devs came in and got straight to work within our baroque, overly-complicated system. They plugged right into our process and became fully embedded in our team. Outsourcing software development had previously been a hit or miss experience for us. Statements of work rarely covered everything, processes were inconsistent, contractors weren't always available. It is a much more stable process with Speed & Function. The team is reliable and responsive — I never lack confidence in their professionalism or ability to complete the work.
MANAGER FOR ONE OF THE WORLD'S TOP 10 HIGHEST TRAFFIC WEB PROPERTIES
S&F has been instrumental in our project work, especially during ongoing month-over-month engagements. We look at them as an extension of our team. They have a deep pool of solid engineering talent. We never have concerns about the quality of their work or their ability to figure stuff out — that's their greatest strength.
Justin
FOUNDER OF A GREATER PHILADELPHIA DIGITAL AGENCY
Before finding S&F, we had a handful of web developers that were unresponsive, slow to finish, and often didn't understand what we were trying to fix. In a very quick and responsive turnaround, S&F fixed one of our forms and implemented a few custom modules. They also supported us with some Drupal updates. Our website is now more manageable and secure.
22q Family Foundation
Before our partnership with Speed & Function, we had two major outsourcing challenges: 1) poor project management/client services, and 2) lack of quality execution. Freelancers and companies alike produced amateurish deliverables that weren't complete, the work purely transactional vs. part of our overall strategy. With S&F, we were relieved to see work that was completed end-to-end. We never have to pull teeth to get things finished. Their process demonstrates confidence in their expertise, and it's helpful that the founder is here and available in Philly.
Jim
COFOUNDER OF A PHILADELPHIA DIGITAL AGENCY
The professionalism, care, and attention of the S&F team is fantastic. They take the time to truly understand their clients' needs, they ask a lot of questions so that nothing is overlooked, and they deliver quickly and efficiently. We have finally found our forever dev team.
Sara Elliott, Encore Editions
CO-OWNER, E-COMMERCE, ART AT ENCORE EDITIONS
By far the best development company I've ever worked with — and I've worked with dozens. They are hands-on, precise, patient, highly-skilled, and actually care about what they are building. It's not a contract for them, they join in as if they are official members of your team.
Jason Sherman
ENTREPRENEUR AND TECH STARTUP EXPERT
I've been working with Nick and his team for about a year now. The quality of their work is by far the best I've ever seen. Even better, they are willing to spend extra time explaining what they are doing and to help you in any way possible.
Seth Goldstein
CREATIVE DIRECTOR AT GOLDSTEIN MEDIA LLC
We're ready to get started.
Are you?