Software development so collaborative, it's virtually built in-house.
We're not contractors, we're collaborators. A steadfast extension of your team, grounded in a developmental culture and rock solid engineering, ready to tackle the most complex of technical and collaboration challenges.
How we
do it
We build custom software applications using today's most advanced technology. But so do a lot of software engineering firms. So what makes us different?

At Speed & Function, we strive to make working with us easy – whether that's providing seamless integration with your team, rock solid processes, or high-caliber talent that gets it right, first time.

Our unique value lies in our developmental approach. Through focusing on learning, feedback, and transparency, we are able to achieve alignment with our clients (and manage uncertainty and complexity) with speed, flexibility and ease.

We are committed to exceeding your expectations.
Our team of
professionals:
meet our entire team
Olga Michai
Account Manager
Peter Ovchyn
Head of Sales
Igor Leonets
Head of Delivery
Navi Tulkun
PM practice lead
Our integrated approach to software development.
Agile thinking: Through use of the Scrum framework, we're able to avoid risks, communicate with transparency and get your product to market more quickly.
Elastic delivery: To optimize costs, we assign you a lean, mean, self-scaling dev team that functions as-needed, when needed.
Intensive collaboration: Daily check-ins ensure transparency and simplify the process.
Local presence: Locations all over the globe mean someone is always available, but if you're looking for someone in your time zone, our homebase is Philadelphia, PA.
Full stack software engineering, which includes the following practices:
Our Process: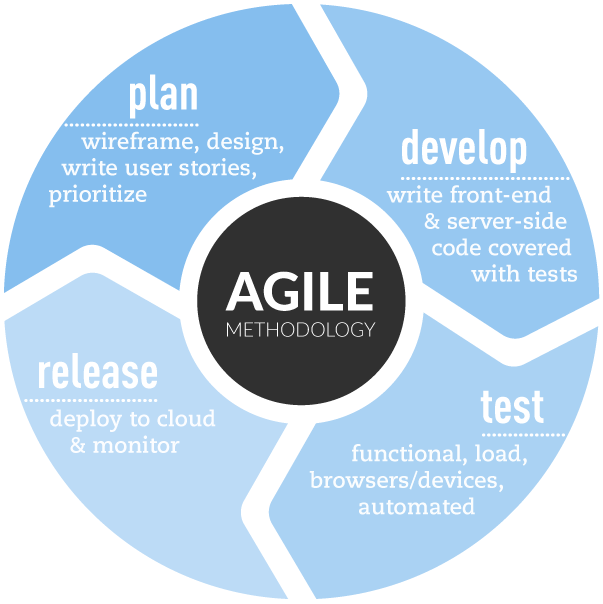 Founded in 2011, Spark DGS is a design agency based in Doylestown, PA. S&F handles roughly 85% of Spark's total development work. As the design agency continues to grow, its deliberately collaborative partnership with S&F only matures and expands in more mutually beneficial ways. When the COVID-19 pandemic hit, the two companies worked at an excruciating pace to successfully design and develop a site for a client, who makes ventilators, urgently needed during the crisis
View Case Study
Website and mobile application
Web and mobile application digitizing disaster planning, response training and recovery — both online and offline — for a company that handles property damage scenarios for multifamily managers and businesses. 
Tech and tools we used: MeteorJS, Blaze + React, Apache Cordova, AWS
Emergency and Other Relief Services | Mobile App Design
View Case Study
E-commerce
CertainTeed, a leader in sustainable product development, transformed their digital product catalog into an engaging customer experience, where visual impressions turn into a high ROI. A new learning center became a cornerstone in the company's customer experience.
Tech and tool we used: Drupal 8, Bootstrap 3
Manufacturing | Web Development
View Case Study
Large medical device company
Website and mobile application
A ventilator manufacturer with offices in 100+ countries saw a massive spike in their product demand at the beginning of 2020 due to the COVID-19 outbreak, and received an integrated, fast-working web-based and mobile platform that responded to the urgency of the situation.
Tech and tools we used: Drupal, AWS, Sass, TWIG, jQuery, Jira.
Healthcare | Web Development | Mobile App Design
View Case Study
Museum
Website development
One of the most important US-based art institutions was forced to redefine what a typical museum experience looks like due to COVID-19. S&F created a digital space where users can embark on a storytelling-based, sensory-first journey through the world of classics, while strengthening protective measures and protocols in a preventive approach to cybersecurity.
Tech and tools we used: React Native +, Drupal 8
Art | Web Development
View Case Study
Simulator for a Major US Airline
Flying world-class:
When a major US airline needed to overhaul their internal training system, they partnered with Speed & Function to create an ipad-based training simulation. Their existing training platform crashed constantly, resulting in rescheduled trainings. Our solution — we developed a front-end based simulator of the training platform to get their on-boarding process back on track.
Tech and tools we used: Front-end, Angular 1.5, Redux, SASS,
Commercial air transport/Aviation | Simulator Build-up
VUWR
No sweat video conferencing:
The team at VUWR, a video hosting platform, was dissatisfied with the quality of video conferencing apps on the market; they quickly saw this as an opportunity to build their own versatile video conferencing software, with an emphasis on cyber security through S&F.
Tech and tools we used: Agora, React, Ably, Node.js, AWS services (AWS Lambda functions, EC2, CloudFront, route53).
Communication/ Video Conferencing Services | App Development
View Case Study
4b+ corporation
Mind the crisis:
A US-based engineering and consultancy business needed a custom-built web application to manage their hazard mitigation tasks, a project that encompassed a high degree of technical sophistication.
Tech and tools we used: Ruby/Ruby on Rails, GrapeAPI, Sidekiq, ActiveAdmin, React, Ant Design.
Engineering | Web application dev
View Case Study
Legal Firm
Document management and legal workflow platform
A document management and legal workflow platform streamlines the entire franchise process for the practice's customers in all 50 states. The fast-working and flexible custom-built environment enabled the company to scale and become the  #1 franchise law firm according to Entrepreneur Magazine.
Tech and tools we used: Ruby/Ruby on Rails, PostgreSQL, Sentry, Heroku, jQuery, Rspec, Insightly.
Law/Legal | Intranet Development
View Case Study
Syneos Health
Vouching for website wellbeing:
Syneos Health is a $4.6b multinational organization that helps companies with clinical trials and biopharmaceutical therapies. For the client that had developed four websites dedicated to Wilson's disease and didn't have quality assurance and quality control specialists, Syneos Health was looking for a professional QA team to test several websites under a tight deadline.
Tech and tools we used: Figma, Photoshop
Healthcare | Web Development | QA Testing
View Case Study
A leading water technology company
Mobile application and web portal
Mobile application and web portal to enable device data access for water engineers, including when they were offline and out of cell range.
Tech and tools we used: Sass, CSS, jQuery, Backbone, Gulp, Webpack, Episerver, Microsoft SQL Server
Utilities | Web Development
View Case Study
Development Company
Empowering community wealth:
Urbane, a New York–based startup dedicated to energizing underprivileged neighborhoods, wanted to match their users' engagement efforts through an edgy digital platform which would encourage online conversations – all powered by ApostropheCMS.
Tech and tools we used: Nunjucks, Sass, Gulp, Javascript, ApostropheCMS, node.js, Mongo, AWS
Community | Platform Dev 
View Case Study
Top University-affiliated Network of Hospitals
A large ADA-compliant website
Scaling a digital agency team to deliver a large ADA-compliant website that ranks high on SiteImprove's accessibility scale for a top-university-affiliated network of hospitals.
Tech and tools we used: Twig, Sass, Gulp, Javascript, Drupal 8, Acquia Cloud hosting
Healthcare | Inclusivity | Web Development
View Case Study
TreeAge
Augmenting digital decision-making:  
TreeAge Software, LLC, the company behind TreeAge Pro, was in dire need of a more global touch to their e-commerce platform that included an optimized path-to-purchase approach supported by a brand new, easy-to-use interface.
Tech and tools we used: WordPress on Pantheon hosting, WooCommerce, Fusion Builder
Data Analytics | Platform Dev
View Case Study
Financial investment institution
Investing in good business:
After developing 4 new products, a financial investment firm requested the creation (from scratch) of 4 bespoke, SEO-optimized landing pages by S&F that would rank high on search engines like Google and Bing in the shortest time.
Tech and tools we used: Storybook, Twig, Sass, JavaScript, Drupal, Yarn, Oracle Eloqua Marketing Automation
Finance | SEO Optimization | QA Testing
View Case Study
This is
what people think
Speed & Function has been an invaluable collaborator in expediting progress on the Wikimedia Foundation's yearly engineering roadmap and key development projects. Whether it's augmenting day to day maintenance of our platform codebase to more complex, strategic projects and experiments - we know we can trust Speed & Function to do the job well (and often ahead of schedule)
Mat Nadrofsky, Wikimedia Foundation
Director of Engineering
The S&F team has taken the time to develop a deep understanding of our program and how it works. They were very quick to pick up our Meteor.js code base and contribute to it productively. They are helping us develop a better workflow and to shape our long term vision for this project. The team has a fast response time and good communication skills.
MJ Klenk, RestoreCore
PRODUCT MANAGER AT SECURECORE
The Developmental Sprint® app, designed by myself and our Chief Business Officer and moved online by Speed & Function, enables individuals and teams to surface and overcome hurdles to success. Within three months of our initial conversation, we had our first beta-version to test with a client. Within six months, we were using it as a cornerstone of our business expansion. Our mission has always been to help people and organizations to get better at getting better. This app has enabled us to scale that mission within an organization by providing a common platform and language for identifying and acting on areas of improvement.
Andy Fleming, The Developmental Edge
Chief Executive Officer
The Developmental Sprint(R) app was my first time creating an online app. I needed a team with patience, compassion, and enthusiasm in order to help me execute against the plan. Speed & Function helped me to not only create the app, but to think through and practice how it would work. As a result, we now have an online app that supports our ever-expanding global business.
Claire Lee, The Developmental Edge
Chief Business Officer
I've been working with Nick and his team for about a year now. The quality of their work is by far the best I've ever seen. Even better, they are willing to spend extra time explaining what they are doing and to help you in any way possible.
Seth Goldstein
CREATIVE DIRECTOR AT GOLDSTEIN MEDIA LLC
By far the best development company I've ever worked with — and I've worked with dozens. They are hands-on, precise, patient, highly-skilled, and actually care about what they are building. It's not a contract for them, they join in as if they are official members of your team.
Jason Sherman
ENTREPRENEUR AND TECH STARTUP EXPERT
The professionalism, care, and attention of the S&F team is fantastic. They take the time to truly understand their clients' needs, they ask a lot of questions so that nothing is overlooked, and they deliver quickly and efficiently. We have finally found our forever dev team.
Sara Elliott, Encore Editions
CO-OWNER, E-COMMERCE, ART AT ENCORE EDITIONS
Before our partnership with Speed & Function, we had two major outsourcing challenges: 1) poor project management/client services, and 2) lack of quality execution. Freelancers and companies alike produced amateurish deliverables that weren't complete, the work purely transactional vs. part of our overall strategy. With S&F, we were relieved to see work that was completed end-to-end. We never have to pull teeth to get things finished. Their process demonstrates confidence in their expertise, and it's helpful that the founder is here and available in Philly.
Jim
COFOUNDER OF A PHILADELPHIA DIGITAL AGENCY
Before finding S&F, we had a handful of web developers that were unresponsive, slow to finish, and often didn't understand what we were trying to fix. In a very quick and responsive turnaround, S&F fixed one of our forms and implemented a few custom modules. They also supported us with some Drupal updates. Our website is now more manageable and secure.
22q Family Foundation
S&F has been instrumental in our project work, especially during ongoing month-over-month engagements. We look at them as an extension of our team. They have a deep pool of solid engineering talent. We never have concerns about the quality of their work or their ability to figure stuff out — that's their greatest strength.
Justin
FOUNDER OF A GREATER PHILADELPHIA DIGITAL AGENCY
S&F is a solid business partner. Nick and his team are willing to do whatever it takes to make a project successful and to keep the customer satisfied. They are professional and thorough.
Chris Allison, Turnberry Solutions
MANAGING DIRECTOR
We're ready to get started.
Are you?